---
The Kechemeche Indians were the first to find the fascinating and beautiful stones now known as "Cape May Diamonds." The Indians came to believe that these curious stones possessed supernatural power bringing success and good fortune.
"Cape May Diamonds" are pure quartz crystals and are found in a variety of sizes and colors. The actual source of these amazing gems is in the faraway upper reaches of the Delaware River. Pieces of quartz crystal are eroded and broken off from veins and pockets by the swift running waters of streams. Then begins the some 200 mile journey that takes thousands of years to complete. The strong tidal flow against the hulk of the sunken concrete ship " Atlantus " is the cause for them to wash ashore here in such great abundance.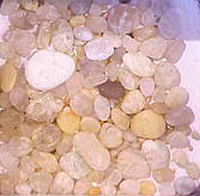 When polished and faceted, these gems have the actual appearance of real diamonds. Before the advent of modern gem scanning equipment, many a pawn broker was fooled by a "Cape May Diamond."
We have a large selection of "Cape May Diamond" rings available in our gift shop. Come visit and find your very own "Cape May Diamond" for the gem of your vacation!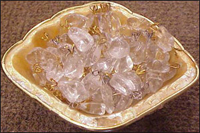 ---
Mini golf is fun no matter where you play, so what sets Sunset Beach Mini Golf apart from the rest? "The View!" The sparkling Delaware Bay is visible from all 18 holes. The first nine holes are wheelchair accessible so that everyone can play.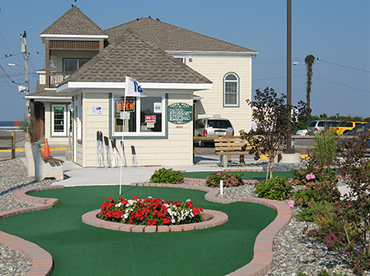 ---
Marvin Hume - A Local Hero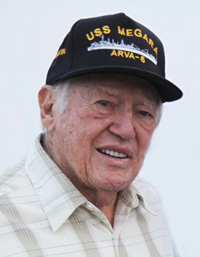 Marvin Hume was born February 3rd, 1921 in Collingswood New Jersey, and passed away April 25, 2015. He joined the Navy November 5th, 1942. He was an Aviation Machinist's Mate on five different aircraft carriers teaching Navy personnel how to repair airplane parts. The last carrier he served on was the USS Megara until his discharge in 1945. After being discharged, he moved to St. Louis, Missouri where he had met his wife and started a family. His dream had always been to open a retail store on the Atlantic City boardwalk, so in 1957 he moved back east and shortly after opened his first store. He operated his business, "The Boardwalk Rock and Shell Shop" for over 20 years. In 1973, he purchased the property at Sunset Beach and soon after left Atlantic City to make Sunset Beach his permanent location.
Marvin felt strongly about honoring our nation's veterans, and his tradition of lowering the flag at sunset continues to recognize the service and dedication of our vets.
---
USS Atlantus - The Concrete Ship
For over 90 years, just off Sunset Beach, in Historic Cape May Point, New Jersey, lies the concrete ship Atlantus.
Due to a critical shortage of steel, during World War I, the federal government turned to experimental design concrete ships. An emergency fleet of 38 concrete ships were planned, by the United States Sipping Board. Only 12 of the concrete ships were ever put into service. Two others had construction begun, but were never completed.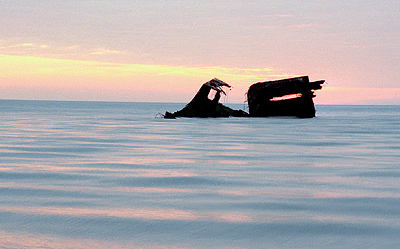 The "Atlantus" was the second prototype, a 3,000 ton 250 foot long freighter, built with a 5 inch thick hull of special concrete aggregate, to correct shattering and brittleness problems found in the first concrete ship.
The "Atlantus" was built by the Liberty Shipbuilding Corporation, of Brunswick, Georgia. She was launched on November 21st, 1918, at Wilmington, North Carolina. Commissioned June 1st, 1919, the "Atlantus" served for a year as a government owned privately-operated commercial coal steamer in New England.
With the end of the war, the more efficient steel ships were again available. The "Concrete Fleet" was de-commissioned, and the "Atlantus' was sent to the "Bone Yard" at "Pigs Point", in Norfolk, Virginia in September of 1920. A year later, the "Atlantus" was stripped after being purchased by a salvage company.
In 1926, the "Atlantus" was towed to Cape May, New Jersey. A Baltimore firm was attempting to start a ferry service from Cape May, New Jersey to Lewes, Delaware. It was planned to have a channel dredged well into shore. The "Atlantus" would then be forced into the channel. A special drawbridge type of device was to be mounted on the exposed end. Two other bulks would be sunk at angles creating a "Y" shape. The ferry would dock by wedging in and cars and passengers would load and unload by use of the drawbridge.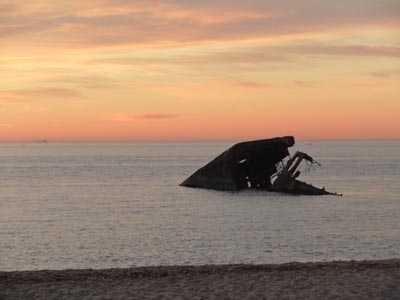 While awaiting positioning, the "Atlantus" broke loose of her moorings during a storm June 8th, 1926 and went aground. Several attempts were made to free the "Atlantus" - they were futile.
Thousands of visitors come annually to view the cracked weather-beaten hull and collect beautiful Cape May Diamonds that lie in abundance on Sunset Beach in Historic Cape May Point, New Jersey.
---
Cape May Hotels, Attractions, Tours, Packages, Information and Coupons
Please check out our friends, Cape May Resorts, over on their website: http://www.capemayresort.com.
Your Cape May NJ Vacation Resource. Find Cape May packages and coupons for hotels and accommodations, events, food, restaurants, tours, golf and more!